October is Down Syndrome Awareness month. Today is last day of the 4th year for the 31 for 21 blog challenge, which is hosted by
Unringing The Bell
.
It's called 31 for 21 because there are 31 days in October and the most common of the 3 types of Down syndrome is Trisomy 21. It was my first time to participate and I certainly felt the pressure, which I put upon myself. In signing up for the challenge, I committed to blog everyday in October to raise awareness about Down syndrome. At least 200 other bloggers were in this year. That's quite impressive!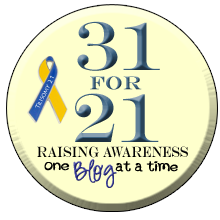 It definitely wasn't easy to blog for 31 consecutive days especially with everything else I had going on this month - planned and celebrated
Matthew's 3rd birthday
,
IEP meeting
and preparing to transition him to school, and a
major surgery
. I did it though! And I'm glad I did.
The prize for completing the challenge? A priceless sense of fulfillment!
Thank you everyone for following us on our journey! Stick around for more.